nRF52840 NFC Tag
Features
-The NFCT peripheral is an implementation of an NFC Forum compliant listening device NFC-A. With appropriate software, the NFCT peripheral can be used as the listening device NFC-A as specified by the NFC Forum.
• NFC-A listen mode operation
• 13.56 MHz input frequency
• Bit rate 106 kbps
• Wake-on-field low power field detection (SENSE) mode
• Frame assemble and disassemble for the NFC-A frames specified by the NFC Forum
• Programmable frame timing controller
• Integrated automatic collision resolution, cyclic redundancy check (CRC), and parity functions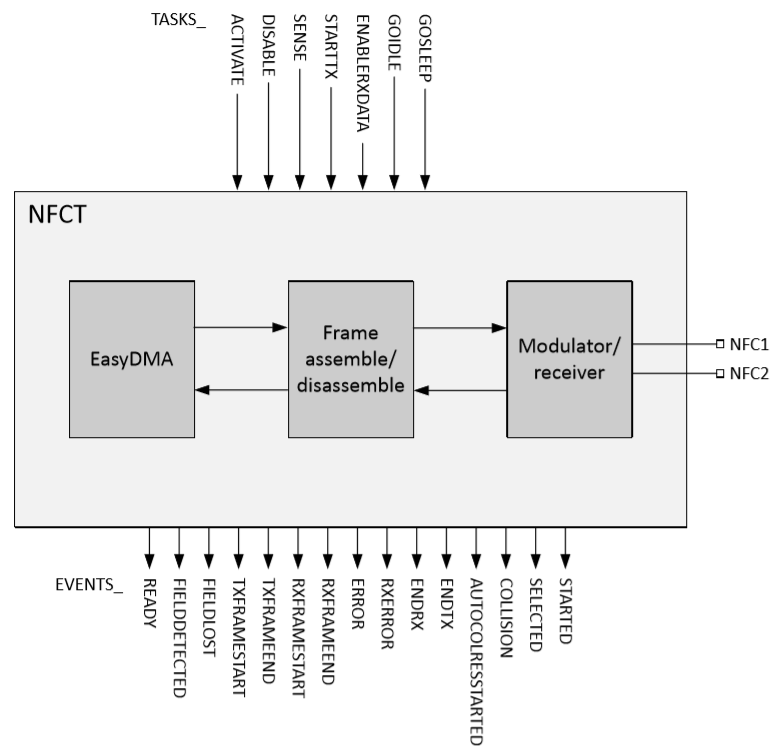 from : http://infocenter.nordicsemi.com/pdf/nRF52840_PS_v1.0.pdf page 196.
NFC 활용 examples.
NFC examples
The SDK provides example applications that demonstrate the use of the nRF52 NFC tag module. See NFC library and modules for detailed information about NFC and the available libraries and modules.
The following NFC examples are available:
---
첫등록 : 2019년 8월 11일
최종수정 :
본 글 단축주소 : https://igotit.tistory.com/2274
---